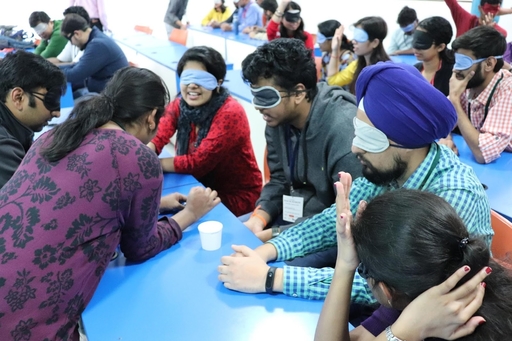 About Inclusive Stem Hackathon
Inclusive STEM Hackathon is a 24-hour hackathon where blind and visually impaired developers, industry professionals and engineering students come together to work on exciting and challenging problems. The aim of the hackathon is to sensitize the engineers from potential IT companies as also the wider company mindset on the functioning and efficiency of persons with blindness and low vision by working together on the project, while also allowing the participants with disabilities an opportunity to learn from experienced professionals. Unlike several other hackathons, the hackathon does not strictly enforce working on accessibility-related projects. The final projects must be accessible for people with disabilities though. This learning, in turn, can help companies evaluate their policies and improve them if needed. Besides coding for 24 hrs, the hackathon is also a platform for blind participants to network with company representatives to share their interests, aspirations and challenges in the recruitment process or once at job. This learning can also help companies evaluate their policies and improve them if needed.
About Hackathon 2019
After a successful hackathon in 2018, I-Stem alongwith its partners IIIT Bangalore, VisionAid, Vision Empower and XRCVC organised Inclusive Stem Hackathon 2019 from 17th to 19th January 2019 at IIIT Bangalore. With the theme "Empowering the Underrepresented", the event challenged participants to develop high-impact products in 24 Hrs., while also appreciating the beauty of diversity on their teams. With 16 Teams, 7 Leading Academic Institutes, 9 IT Firms and over 34 Visually Impaired Coders, the hackathon was sponsored by Oracle India, Mphasis and Dhun Pestonji Parakh Discretionary Trust.
Organisers
The event was divided into two tracks this year.
Regular Track: Consisted of teams of five composed of two blind developers with experience in computer science, two industry professionals and one sighted computer science student.

Mentorship Track: As an addition this year, this track consisted of teams of four composed of two blind developers relatively new to computer science, one corporate professional (as a mentor) and one sighted computer science student.
Participation
In addition to the 24 hour hackathon the event saw a host of pre-event workshops designed to give inputs to participants. Sighted Participants at the event had the opportunity to re-think their ideas on disability through a Disability 101 workshop and build their understanding on accessibility through the Technical Session on Accessibility. The blind and low vision participants got opportunity to network with senior mentors through Mentorship Circles and Career Opportunities session. A session on "Inclusion: Competitive Advantage for Start-ups and Mid Size companies", and session by Social Alpha on their accelerator program on Access Technologies brought in the start up eco-system discussion to the event. This event also saw an Academic Roundtable on Inclusion to discuss ideas on promoting inclusion for student with disabilities in higher education which saw participation from IIT-Delhi, IIT-Madras, IIIT-Bangalore, Ashoka University, St.Xavier's College (Mumbai), IIM-Bangalore and IIT Kanpur. A panel discussion on Inclusion for Higher Education and Employment in STEM was also conducted.
Hackathon Projects
The hackathon showcased enourmous talent where emerging minds created plenty of remarkable projects. Here are brief descriptions of projects that the participants worked on.
Regular Track
GestWave - an app for using smart phone with hand gestures

Around Me- An indoor navigation app using beacon technologies

Smart Bus Navigation - App to assist read bus numbers at bus stops for persons with blindness

Finovate - aiding investors with blindness extract relevant financial data for making sound investments

We Assist - a volunteer management app that builds in concept of Time Wallet for assistance provided

Coin Detecto - Identifying coins with a smart app.

Unifundster - Making financial graphs and charts accessible for retail financial investors to make investment choices.

Voice Chess - An inbuilt audio input-output and text command based accessible chess game for smartphones.

Bucky - Tool to extract text from video content and make the same accessible

Vision Flow - Web based Accessible flow chart creator and reader.
Mentorship Track
I-Secure - A camera-face recognition based door security system with audio announcement of visitor name

Invisible Hand - App for providing and connecting help in case of emergency or need for support

NFC Bus Payment - A card swiping system for bus ticket payment.

Hangman4E - An accessible self voices hangman game

U.R. Here - Description of Indoor layouts for persons with blindness and low vision.

QuizzBuzz - An accessible quiz app
Results
Congratulations to our winners!
Regular Track:
First prize : Bucky app (with text extraction from videos)

Second prize : The Coin Detector team

Third prize : Unifundster financial graph and charts accessibility app
Mentorship Track:
The mentorship track had a tie in the first position for the Hangman4E and the QuizzBuzz games both teams with the youngest participants at the Hackathon.
Quotes
"We had a lot of workshops and talks about how we could sensitise ourselves and understand people with disabilities and make products that are more inclusive. The event as a whole was quite interesting, we could see networks and connections being made right in front of our eyes and solutions meeting problems." - Mallampalli Parinita, A participant from IIT Madras
"This experience taught me how I can use IT skills to solve my own problems. Working in diverse teams was a fantastic experience where all team members could learn from one another." - Laxmisagar Samai, one of the VI coders
"Most remarkable experience to meet like minded individuals involved in IT and a great networking opportunity to make new connections. In addition this is the longest I have coded at a stretch which was a great experience as well." -Ankur Kankonkar, VI Coder, Msc IT Student, Chowghule College, Goa
"My daughter Nisha was recently introduced to Vision Aid and she has studied Python and also registered to multiple courses on Coursera. She is head on and in love with programming and I am really happy that she could make it to this Hackathon. I know it is a challenge for her and I hope it opens greater avenues for her as well." - Samantha D'Souza, parent of a participant