About Us
There are over 1.3 billion people with disabilities around the world and 200 million youth with disabilities. Despite legislative measures and assistive technologies, there continues to be a big gap in education and employment opportunities for students with disabilities, especially in fields such as STEM. These challenges arise due to such factors as inaccessibility of study material, attitudinal barriers and lack of awareness. Recent advances in technology, however, makes it possible for students with disabilities to pursue several careers on an equal basis as others.
At I-Stem, our vision is to empower students and professionals with disabilities to realize their potential with a special focus on the STEM fields. We do this through hands-on activities and initiatives, training, mentorship, technical research, and a strong community. We also work closely with universities and corporates to help them realize the potential of people with disabilities and include them in their organizations, thereby creating an inclusive ecosystem.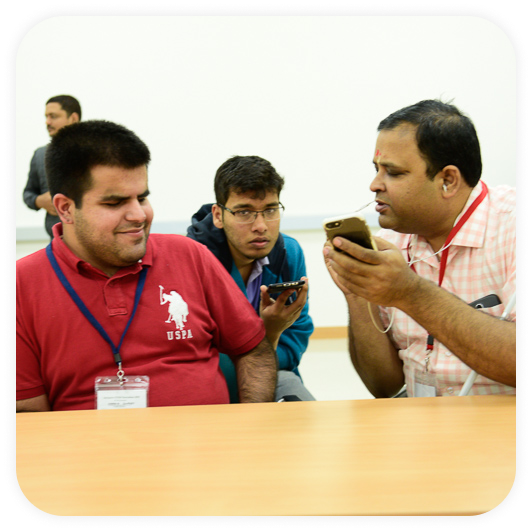 For Educational Institutions
Set up a tech-powered management framework
Set up or power your disability office with our platform that automates several office workflows, providing you more time for things that matter the most.
Automate accommodations
Use I-Stem's AI-powered services to provide accommodations and services to your students with disabilities (e.g. volunteer search, accessibility conversion, real-time captioning etc.) without minimal manual intervention.
Join a community of universities committed to inclusion
Learn from and share ideas with other universities in the disability space on our platform.
Highly customizable
Modify our framework and/or services for your needs and integrate with existing systems for more efficiency.
Empower your students with university/job transition services
With a network of other students with disabilities from around the world, mentors, corporate representatives and university/job transition resources, help your students find and prepare for meaningful opportunities.
Save on cost
Instead of buying thousands of software each for a specific purpose, take advantage of our unified platform with several automated frameworks, services, community forums and other resources all in the cloud with guaranteed security and privacy.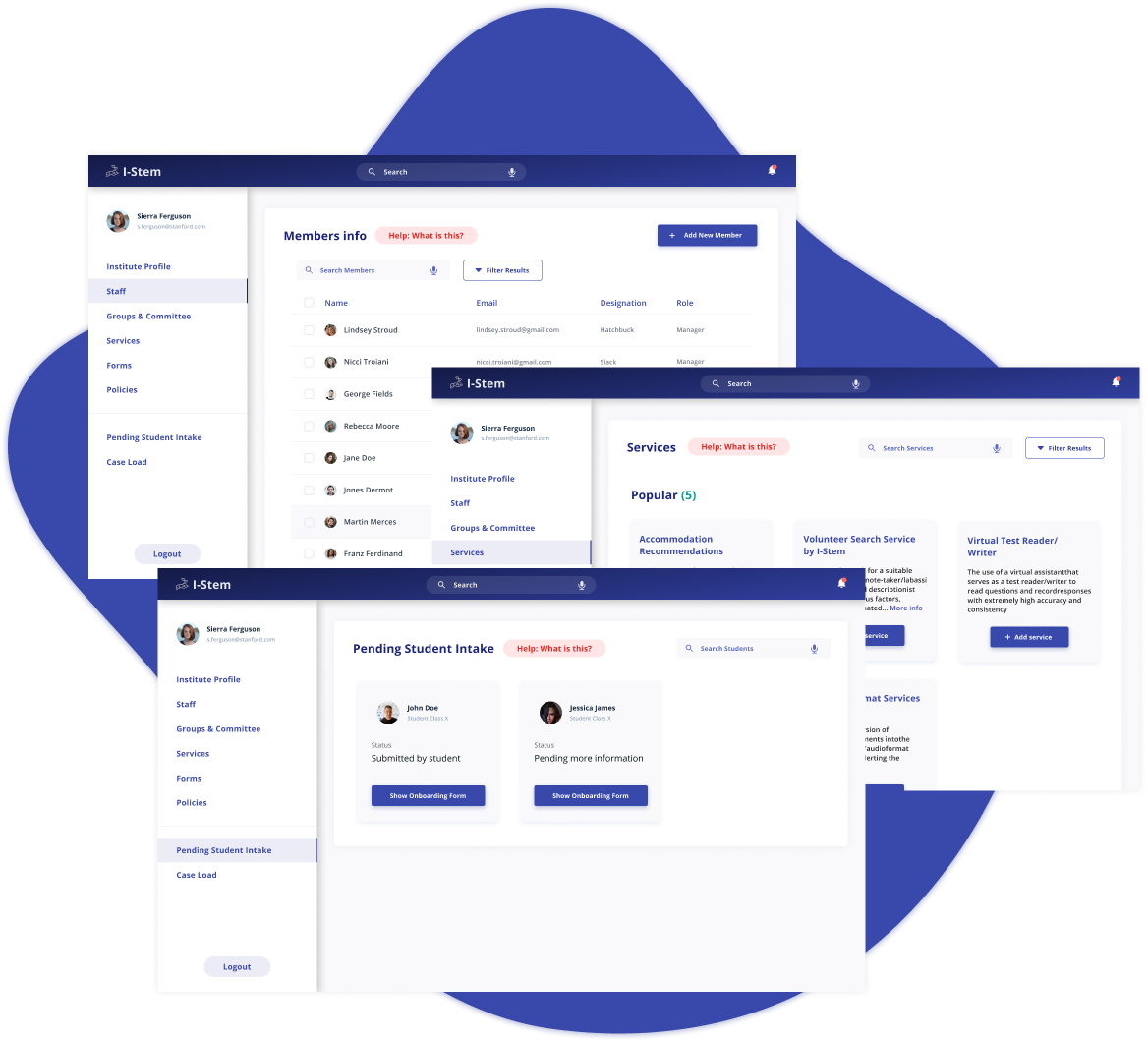 Want early access to University portal?
Sign up for early access to our university portal. We will update you in a few weeks.
For Students
Hackathon
Develop your technical skills and work on high impact solutions in diverse teams while competing for the top prizes. Open for both students with and without disabilities.
Fellowship
Join our community of exceptional students with disabilities and receive year-long support from corporate mentors and the I-Stem team.
Technical training program
Learn Python, web development, data structures and AI with accessible courses from top global universities and support from our mentors.
I-Stem internship program
Join I-Stem as an intern to work on cutting edge solutions to empower students and professionals with disabilities. Open to students with and without disabilities.
Corporate connect
Connect with our corporate representatives for possible recruitment opportunities.
Community
Connect with our community of other students with disabilities from around the world.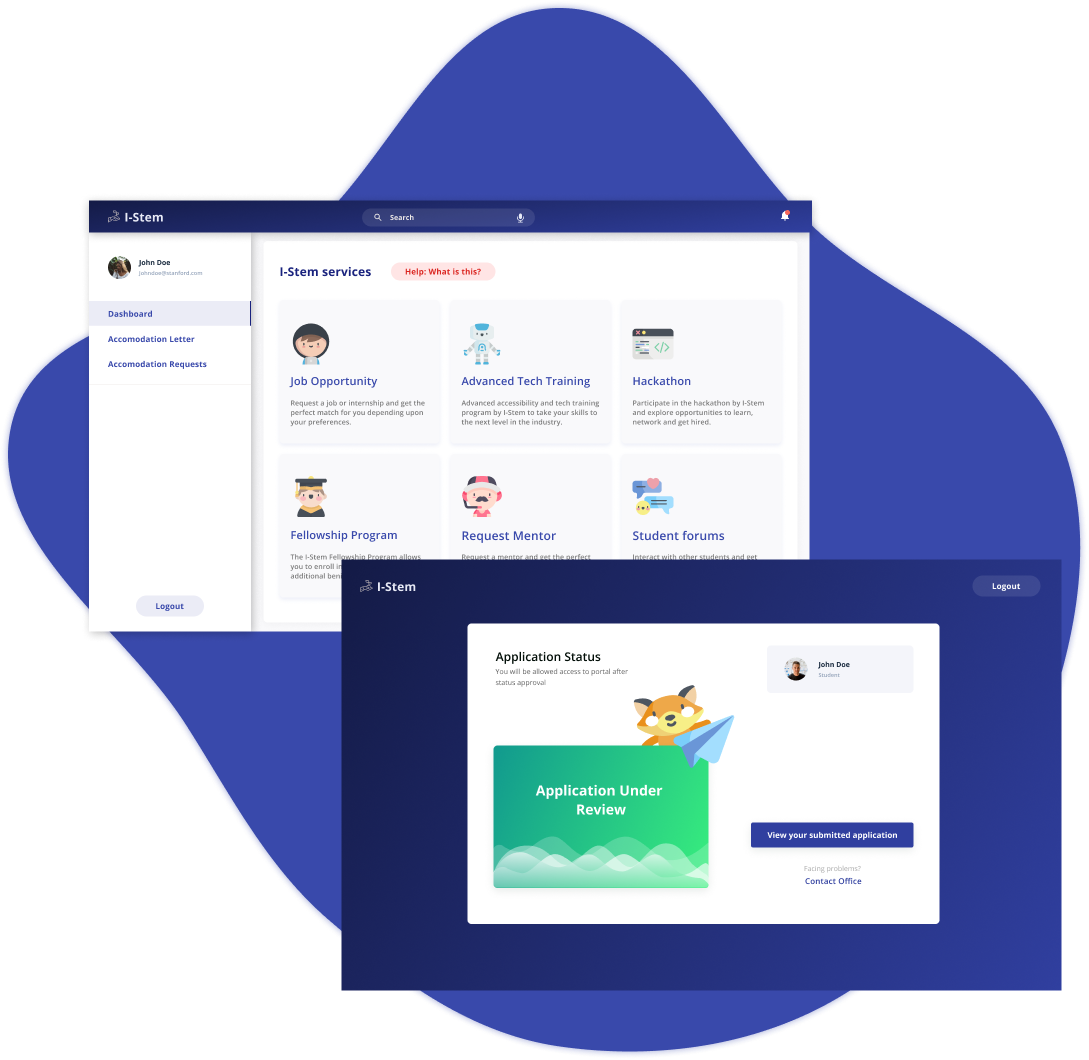 Interested to join our community?
Want to get access to these services and be a part of our community? Fill the form and be a part of I-Stem.
For Corporates
Sensitization
With experience as employees with disabilities at some of the top global companies, we can help conduct disability sensitization programs for your employees.
Hiring
Join our hiring platform to meet top talent with disability.
Employee accommodations
Supercharge your employee accommodations process using our automated portal.
Accessibility consultations
Let us help you design and implement accessible policies, products and solutions.
Research collaborations
Partner with us on cutting edge solutions to empower students with disabilities.
Sponsorship
Help us in our vision to support students with disabilities access better education and employment opportunities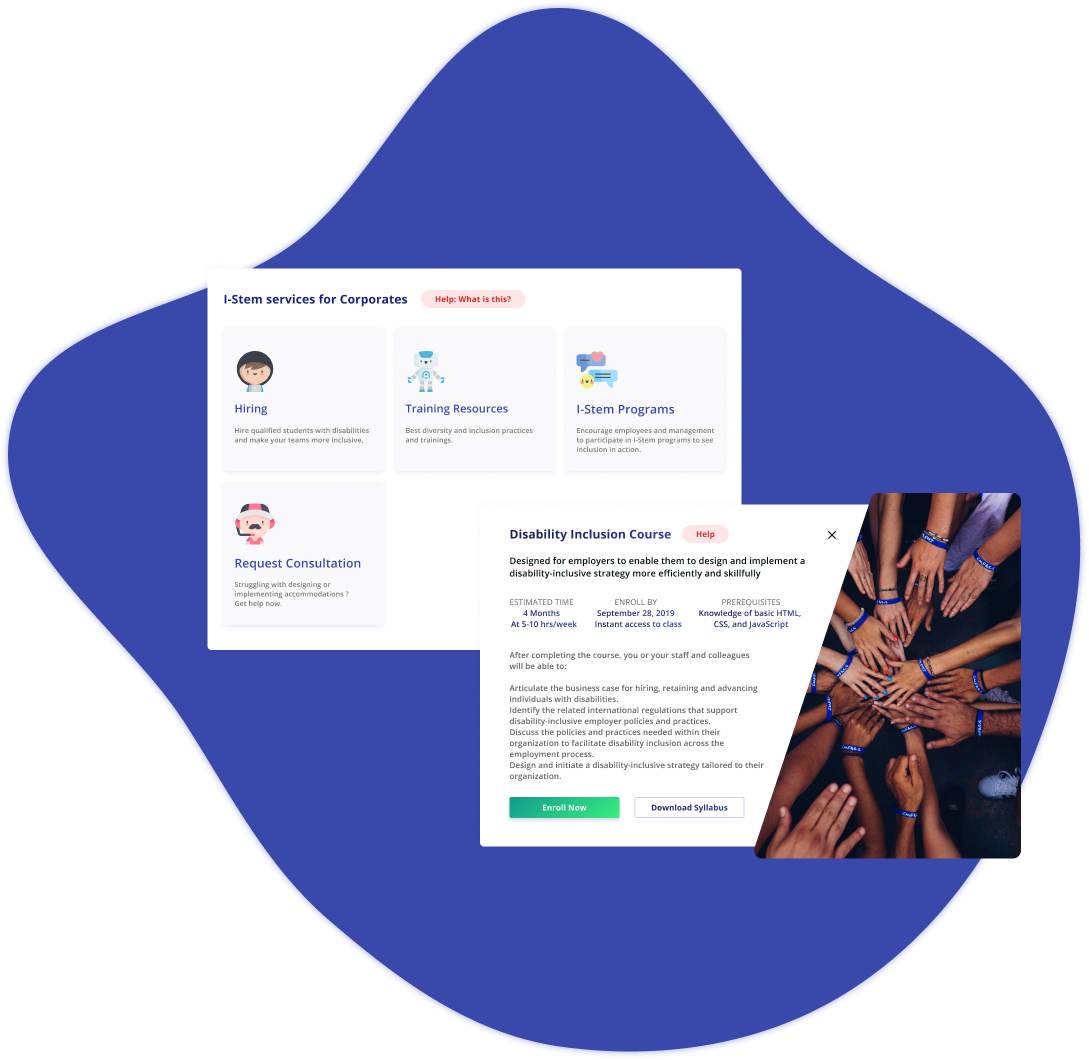 Interested in our corporate offerings ?
Get in touch with us for a better understanding and availing our services.
VOLUNTEER WITH US
Are you passionate about diversity and inclusion in tech? Would you like to meet and work with outstanding students with disabilities from across the country? Are you excited about sharing your knowledge with upcoming tech talent? Do you want to develop technology that can empower people with disabilities?